This year, Kayley had sort of a birthday WEEK!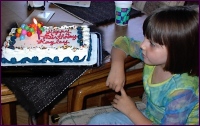 The weekend before Kayley's birthday, her grandpa was in town, so we had a special birthday dinner with cake and ice cream and gifts.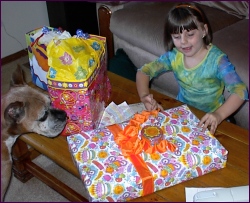 She had a special sleepover with her grandparents too, and really enjoyed spending time with them.
Her birthday fell on Wednesday, but she spent all day Tuesday with her dad.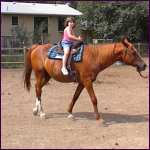 First, they went horseback riding with old friends of Daddy's we used to hang out with when we lived in Boulder.
Kayley really had a great time! I heard she was a little apprehensive at first, but I guess that's to be expected when you're just a little thing, on this gigantic animal!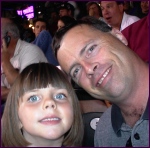 After the horseback riding, they headed back to Denver for a Rockies game! Kayley hadn't been to a game since she was about 2 years old, so it was a lot of fun for her to go with her dad. Unfortunately, the game got off to a late start because of the rain and they only got to watch about three innings before Kayley decided she'd had enough of that shite!
She DID, however, stay long enough to eat almost an entire footlong hot dog! I wish Troy would have snapped a picture of that! She thought that was WAY cool.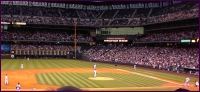 They lucked out with the seats they were in, since it was raining - our tickets are right under an overhang, so they were sheltered.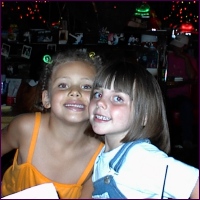 On Wednesday, Kayley's actual birthday, we went out to dinner at Joe's Crab Shack. Kayley's best friend Taylor and her mom Angie joined us for dinner. Kayley LOVES to go to Joe's - something about seeing the waitstaff standing on the tables doing the Macarena really floats her petunia...hehe! The girls got to do the limbo too, which they thought was cool!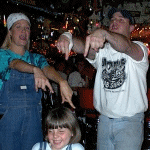 And of course, our servers sang Happy Birthday to her, getting the attention of the entire restaurant. She's such a ham, she didn't mind a bit. She was like, "Yeah, it's all about me. All eyes RIGHT here, thank you VERY much."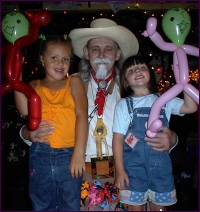 Then the balloon guy came over (actually, Taylor and Kayley CHASED HIM DOWN until he finally stopped at our table!) and made some very cool little alien balloons for the girls. No birthday hats for them, thank you. Must have aliens.
So Joe's Crab Shack was fun! The original plan was Chuck E. Cheese - at the last second, as we were walking out the door, I asked her if she'd rather go to Joe's, and she said YES! So, who were we to argue? Shitty pizza and bad beer, combined with screaming children? Or decent food, good beer, and a BALLOON guy? Well, the choice was OBVIOUS to Kayley. Heh.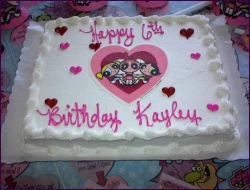 On to the REAL birthday party! Kayley's party was on Saturday, the 28th. She was six years and three days old when she had her REAL birthday party, as she informed us. We agonized over what the THEME should be, because these are very important matters when you're turning six. She finally decided what the hell? Why NOT have the Powerpuff Girls two years in a row? So our pictures this year look REMARKABLY like our pictures from last year, except with an older Kayley. LOL!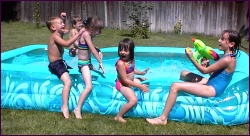 We had a bunch of kids over for a pool party. Kimberly was kind enough to loan us her kickass pool - this thing is HUUUUGE - I was in it, splashing around!
We also had the Slip & Slide and a sprinkler set up. Plus a big bucket of water balloons and a few Super Soakers. Ah, nothing like spending all day getting wet when you're a little kid!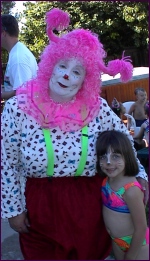 Right about then, the scary clown showed up! LOL! Well, actually, she wasn't the least bit scary to the kids. The adults, however, were a little skittish. Can't sleep! Clowns will eat me! We've all read It. Stephen King scarred us for life!
The clown did LOTS of balloon hats and face painting. She also did fun parachute games with the kids (at one point I was afraid for my child's safety, but what the hell? It's a party! Heh.) I also teased the clown about her Gwen Stefani hair, but I don't think she got the joke.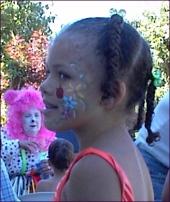 She painted mostly kitty faces...funny when you're six, you want the same thing EVERYONE else does. Taylor was the exception to the rule, however. She got ladybugs and flowers, and looked adorable. I also saw a kid painted up like Pikachu, and I wish I would have snapped a picture for his mom, because the face paint lasted all of like thirty seconds before he dove headfirst into the pool and washed most of it off!
Another little girl got a HUGE butterfly painted on her face,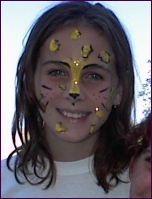 but the picture didn't come out great. Dammit! Cassandra, Kimberly's daughter, got some leopard thing going on, and it looked pretty nifty. Kimberly and I got celestial shit painted on our faces. Can't just let the little kids do their own thing; oh NO.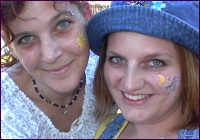 The balloon animal/hat things were the craziest though. Maybe it was because we were getting our drink on, but every single thing Silly the Clown made looked positively phallic to Kimberly and me. Hehehe! And it wasn't just us! All the parents were like, "What IS that thing supposed to be? A sword? With testicles? Ooookay." Hehehe!
The parachute thing looked like fun. They were doing this thing where they all walked around in a circle with a kid sitting in the middle, then everyone yanked really fast so the kid sitting in the middle either spun around and giggled or got a major rug burn on the ass, depending on how big they were.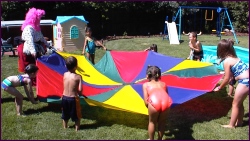 They walked around singing "Twister, twister, don't give her a blister..." Kimberly and I started singing, "Break her little wrister..." Hehe! We started speculating how often kids arms and legs were severed in this little activity. "Aw, put it on ice. We can sew that RIGHT back on."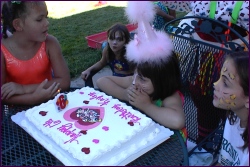 Then we moved on to the cake, ice cream and presents...all the important stuff. Troy almost dropped the cake bringing it outside...luckily Kimberly has lightning fast reflexes and caught it! LOL! Here's Kayley with the Giant Cake, as we sing Happy Birthday...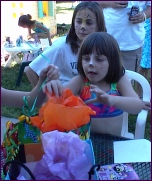 Then onto the gifts!
Kayley got lots of loot - mostly Powerpuff Girls/Diva Starz/Barbie related stuff. She also got (from us) a lava lamp and a beaded curtain for her room, which she thinks are the shite. We also got her a Hello Kitty camera and some stuff to start her own scrapbook. She's such a big girl now!
Okay, all that's left is the pinata. Unfortunately, since the clown stayed soooo long, we TOTALLY spaced out doing the pinata. We suck. We sent kids home empty handed, with NO goody bags. So by the time most of the kids were gone, we were thinking, hey, maybe we should do the pinata? LOL! It was only a couple of kids, and they SCORED with the candy. Six pounds of candy divided among five kids. Seems fair!

And there ya have it! Kayley's sixth birthday WEEK from start to finish. Here's a final look at the birthday girl!